Previous News
Local F-273 Responds to Woodlawn Townhouse Fire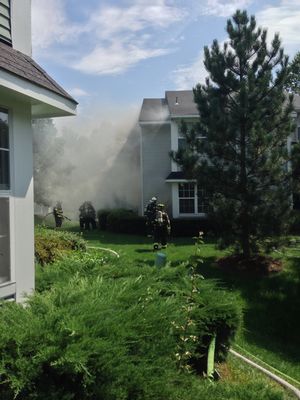 At 1120 hours on 8/9/13, Local F-273 units were alerted to respond to a reported building fire on the 8700 block of Beekman road in the Woodlawn section of Fairfax County. Engine 464 was first arriving and reported a two story wood frame townhouse with smoke showing from a window on Side "B". E464's crew stretched the 400' preconnect to the front door and made entry, finding fire in 2 bedrooms.

Swift Water Rescue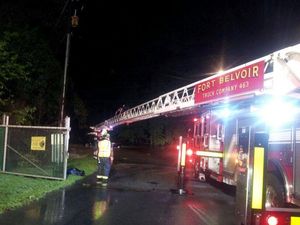 - T463 and E466 were dispatched to a possible swift water rescue located just off post. E466 arrived on scene to find a single vehicle in the water, water was up to the windows. E466 crew could not confirm from their current location if anyone was inside. The crew climbed up the embankment and followed the dry ground to the car.

Broken Power Line causes Fire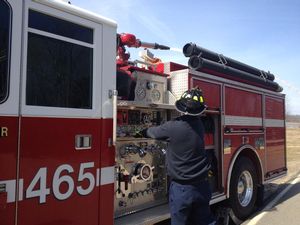 An electrical fire at Mount Vernon Road caused power to be lost in River Village, George Washington Village, Park Village, Dogue Creek Village and other areas on post Sunday afternoon. The cause of the fire was a broken high-voltage power line failure.

Honoring the 19 Fallen Prescott Fire Fighters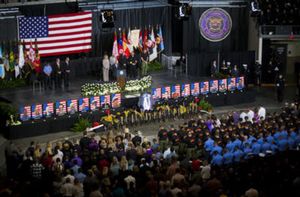 July 9, 2013 – Led by a procession of the Prescott Fire Department Honor Guard, combined fire, emergency services and military Honor Guard and scores of IAFF members, thousands gathered inside and outside Tim's Toyota Center in Prescott Valley, Arizona, to remember the 19 Granite Mountain Hot Shots killed battling a fast-moving wildfire in Yarnell.

Fire at DAU Building 207

 No one was injured during a three-alarm fire at Defense Acquisition University's Bldg. 207, Monday afternoon. More than 140 firefighters from Fort Belvoir Fire and Emergency Services and Fairfax County Fire and Rescue arrived on scene after receiving an emergency call at 12:23 p.m., Monday and fought the blaze until 1 a.m., Tuesday, due to spot fires continuing to flare up.

FB Firefighters share safety information with Warrior Transition Battalion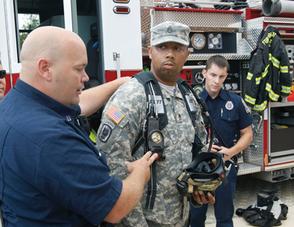 The Fort Belvoir Warrior Transition Battalion learned evacuation tips, how to use a fire extinguisher, kitchen fire safety and the process the Belvoir Fire Department goes through in the event of a fire during the Fort Belvoir Professional Firefighters Local F-273's Fire Safety Day Aug. 1. WTB Soldiers learned the capabilities of ladder and rescue trucks.

FES boosts its capabilities with new equipment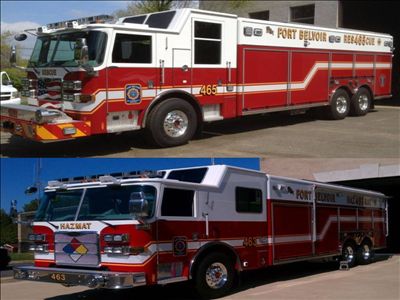 Fort Belvoir Fire and Emergency Services recently added two new vehicles to its fleet, the 463 hazardous material truck and the 465 heavy rescue truck. Both vehicles increase FES's ability to respond to major accidents without requiring external emergency services, making Belvoir's unit more self sufficient, according to Russell Miller, FES deputy fire chief.

Dogue Creek Village Fire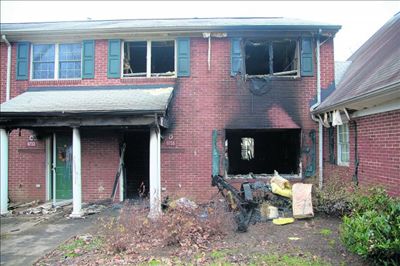 Fort Belvoir Fire and Emergency Services rescue personnel were called to Dogue Creek Village shortly after midnight Tuesday. Fairfax County Emergency Communications notified FES of a building fire in Dogue Creek Village at 12:08 a.m. and FES personnel was on scene by 12:10 a.m.

Belvoir Firefighters practice Aircraft Rescue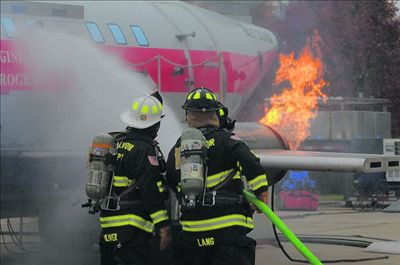 FORT BELVOIR, Va. (Nov. 23, 2011) -- Fire and Emergency Services Firefighters received Aircraft Rescue and Fire Fighting training Nov. 14-18, at Davison Army Airfield here. The week-long training consisted of three days of classroom training and two days of simulation exercises.

IAFF Burn Camp
This year the IAFF Burn Foundation is in Northern Va. and Local F-253 (Ft. Meyer) is taking on the task with all of the other locals in the area to help the kids out. We would like to know if there would be people available to assist with an event at the Mt. Vernon Plantation on the 28th of September from 9:30am to about 2:00pm. Please contact burn@fortbelvoirf273.com or your union officer for more information.
Fort Belvoir hosts USO-Metro's Deployed Family Fun Day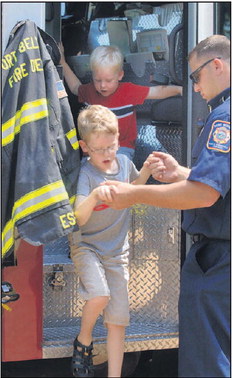 By Brittany Myrick USO-Metro The USO- Metro gave local military Families with deployed loved ones a chance to gather at Fort Belvoir as a community for support and en­­tertainment, at the first Deployed Family Fun Day of the year. More than 400 Families attended the event featuring information for parents and activities for children.

Page Last Updated: Jan 23, 2014 (18:10:00)