Honoring the 19 Fallen Prescott Fire Fighters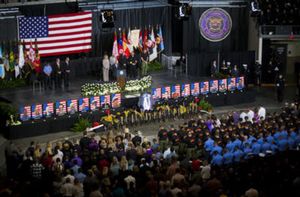 July 9, 2013 – Led by a procession of the Prescott Fire Department Honor Guard, combined fire, emergency services and military Honor Guard and scores of IAFF members, thousands gathered inside and outside Tim's Toyota Center in Prescott Valley, Arizona, to remember the 19 Granite Mountain Hot Shots killed battling a fast-moving wildfire in Yarnell.

The fallen are: Robert Caldwell, Travis Carter, Eric Marsh, Jesse Steed, Travis Turbyfill, Clayton Whitted, Andrew Ashcraft, Dustin DeFord, Christopher MacKenzie, Grant McKee, Sean Misner, Scott Norris, Wade Parker, John Percin Jr., Anthony Rose, Joe Thurston, William Warneke, Kevin Woyjeck and Garret Zuppiger.


The deaths mark the greatest loss of fire fighter life in a single incident since September 11. At the memorial, speakers pledged to never forget the fallen and encouraged others to do the same.
Presiding over the ceremony, Professional Fire Fighters of Arizona President Tim Hill said, "Today will be a celebration of their lives and service. We will also be honoring and offering our condolences to the families."

Vice President Joe Biden also addressed the thousands in attendance. 'There is an old saying: all men are created equal, but then a few became fire fighters. Thank God for you and your willingness to take the risk you do."

United Yavapai Fire Fighters Association, Prescott Chapter Local 3066 President Dan Bates knew each of the fallen personally. "I am hoping to do justice to the 20 heroes of the Granite Mountain Hotshots – including Brendan McDonough, the survivor who has carried on the strength and heroism of his fallen brothers," he said.

Bates continued, "We have grieved and asked why. But, as deep as our grief reaches, I believe God placed these men in Prescott for a reason – to establish a family here and to serve the citizens who call this place home."


IAFF General President Harold Schaitberger had similar words of praise. "Most of the time, this incredible Granite Mountain Crew was invisible to the people they served. Unseen, but not less important," he said. "These 19 fire fighters did what they were trained to do, they used the equipment they had and, as every crew does in every station in every department represented here, they instinctively had each other's backs.

"The hotshots were remembered not only for being an elite group of fire fighters, but also for being husbands, fathers, sons, friends and pillars of their communities taken too soon, each full of life – 14 of them in their 20s – all too young," said Schaitberger. "Each had much more left to do here on Earth. They will be missed."

Schaitberger promised that the larger fire fighter family will always be there for them, and then presented the IAFF Medal of Honor to the families of the fallen. He offered these closing words: "To Andrew, Robert, Travis, Dustin, Christopher, Eric, Grant Sean, Scott, Wade, John, Anthony, Jesse, Joe, Travis, William, Clayton, Kevin and Garret, you have answered the final alarm. You have served your nation well."

The Medal of Honor is given to the families of IAFF members killed in the line of duty. It features the IAFF logo and the words, "Dedication, Honor, Sacrifice." During the ceremony, the families of the 19 were also presented with American and Arizona state flags and a bronzed Pulaski tool, a hand implement used in wildland fire fighting.


In the emotional final moments of the memorial, the Granite Mountain Hotshots Crew lone survivor, Brendan McDonough, delivered the Hot Shot's Prayer. "I miss my brothers," said McDonough. "I would like to thank my family and everyone else for supporting me."

Other speakers offering condolences to the families and friends of the fallen include Arizona Governor Jan Brewer, Prescott Fire Department Division Chief Darrell Willis and Prescott Fire Chief Dan Fraijo. U.S. Secretary of Homeland Security and former Arizona Governor Janet Napolitano, U.S. Secretary of Interior Sally Jewell, U.S. Senators John McCain (R-AZ) and Jeff Flake (R-AZ) and other dignitaries attended, as well as members of the IAFF Executive Board and thousands of members from around the country.

Approximately 250 fire fighters are still working the Yarnell fire, which is now considered 90 percent contained.
Article Cortousy of IAFF News. http://www.iaff.org/13News/070913Memorial.htm