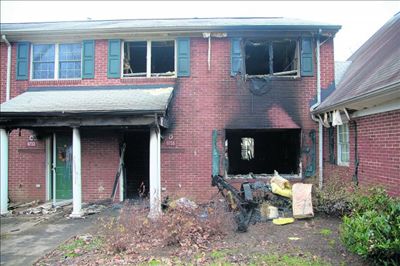 Fire gutted this residence in the Dogue Creek neighborhood, in the early morning hours Tuesday. Two people in the home at the time of the fire were injured.
Fort Belvoir Fire and Emergency Services rescue personnel were called to Dogue Creek Village shortly after midnight Tuesday.

Fairfax County Emergency Communications notified FES of a building fire in Dogue Creek Village at 12:08 a.m. and FES personnel was on scene by 12:10 a.m.

"We dispatched the appropriate Fort Belvoir Units which consisted of four engines, a truck, Fort Belvoir Battalion Chief Capt. Michael O'Neill and assistant Fire Chief Richard Monroe, Fort Belvoir Fire and Emergency Services," said Patrick Reid, Fire Chief, Fort Belvoir FES. "Dewitt medic units and a Fairfax County rescue and truck company were dispatched as well."

FES was notified that there was an occupant trapped in the building. Fort Belvoir engine 465 and Truck Company 463 were dispatched to the scene. Engine 465 went in service with containing the fire and Truck Company 463 went in service doing search and rescue.

Within five minutes on scene, the fire was under control and contained to the dwelling of origin. The two neighboring dwellings suffered smoke damage. The victim was treated on the scene.

"The victim was treated on the Truck Company 463 in conjunction with Fort Belvoir Emergency Medical Service Ambulance 467," said Reid. "They initiated treatment and continued that to Dewitt hospital where the patient was transferred to Fort Belvoir Community Hospital and then on to Washington Center Hospital in DC."

The victim was admitted into the Intensive Care Unit at Washington Center Hospital.

The training that FES personnel has to continuously accomplish allowed them to quickly and safely extinguish the fire and remove the trapped victim.

"FES has a rigorous training program which personnel at the company level and at the departmental level have training requirements," said Reid. "It was because of those training requirements and repetitive training that we do that they were rapidly able to extinguish the fire and remove the victim."

Four Families were affected by the fire. One Family lost all of their belongings; the other Families' belongings incurred smoke damage.

The Villages at Belvoir will be taking non-monetary donations and gift cards at all of our Neighborhood Centers and the Family Housing Welcome Center. Anyone that has information on the needs of the Families, contact Kyla Sage, Family liaison.

For donation/volunteer information contact Lorelei Taylor directly via facebook message or by phone at 814-217-0571.

Additional contact information for Lorelei Taylor, Kyla Sage and other ways of making donations can be found on the Fort Belvoir Facebook page. Just click on the Dogue Creek House Fire Relief link.
By Justin Creech, Belvoir Eagle